Can I travel in your car along with my pet?
Yes, you can. Our vehicles are minivans with enough space for you and your pet,but please prepare carrier bag using usual times for security.
---
Can I use credit card?

I am sorry cash only. Please pay in cash on the day.
---
What is your cancellation policy?

We do not take cancellation fee until same day.
(but contact in case you have received a contact before advance reservation time and cancellation after contact departure will be charged a penalty of 3,000yen.)
---
Is it possible to carry the luggage of non-pet?
We will be able to carry the cargo,so we have a report of regular light cargo transportation industry.
Please contact us for details.
---
Can I cancel my booking?
Yes. You can always cancel your booking for free up to 24 hours prior to your scheduled pick-up time.We will confirm with you again by the a day before.Please let me know if there is a cancel at that time.
---
What happens if my flight is early or delayed?
We'll be able to track your flight and adjust your pick-up time.
We will wait for you in the arrival lobby 45 minutes from the time your flight arrives.
---
Do you charge on Saturday, Sunday and holiday fee?
We do not receive the additional charge.However at midnight and early morning of 20% premium will charge. (pm21:00〜am06:00)
---
What kind of vehicle is it?
It is light car of wagon type. Seat back in order to give you a ride to the dog and  the owner's comfortable has become to separate.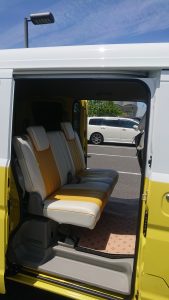 ---
What happens in the case of accident?
★For against attendant
If the person who was riding in the car has been injured etc,you can receive within the scope of the deposit of "personal reparations insurance".
*Tokio Marine & Nichido Fire Insurance
★For pet
The shop is subscribed to the transportation insurance" (unbai navigator). You will be applied within the range of compensation of insurance in case the pet in transfer were death by the collision event for fire explosion or transport. But guarantee against "injury" will be except.
*Tokio Marine & Nichido Fire Insurance
---